Best Beaches near Kuta Lombok
Kuta Lombok is know for its great beaches with crystal clear water and white sand. Here are our favorites, rent a scooter and explore! We will see you back in the restaurant after exploring the south coast of Lombok.
Selong Belanak Beach
I bet that you've already seen the classic photos of a herd of buffaloes walking down a long white- sand beach with an epic backdrop of rounded hills. Selong Belanak is another great beach near Kuta Lombok that I'd highly recommend stopping at.
If you're a beginner surfer, then the best time to visit Selong Belanak is during high tide. There are plenty of surf schools that will rent a board for relatively cheap, and many are eager to teach you. Surfing at Selong Belanak is a small and low sandy break which makes it a great place to learn how to surf.
Even if you're not surfing, Selong Belanak is great for swimming and makes a great place to chill. Unfortunately, we weren't lucky enough to catch a snap of the buffaloes but decided instead to explore the beach and walked to the rocky point on the western headland. We were surprised to find a small, secluded beach and some shallow rock pools to to swim in.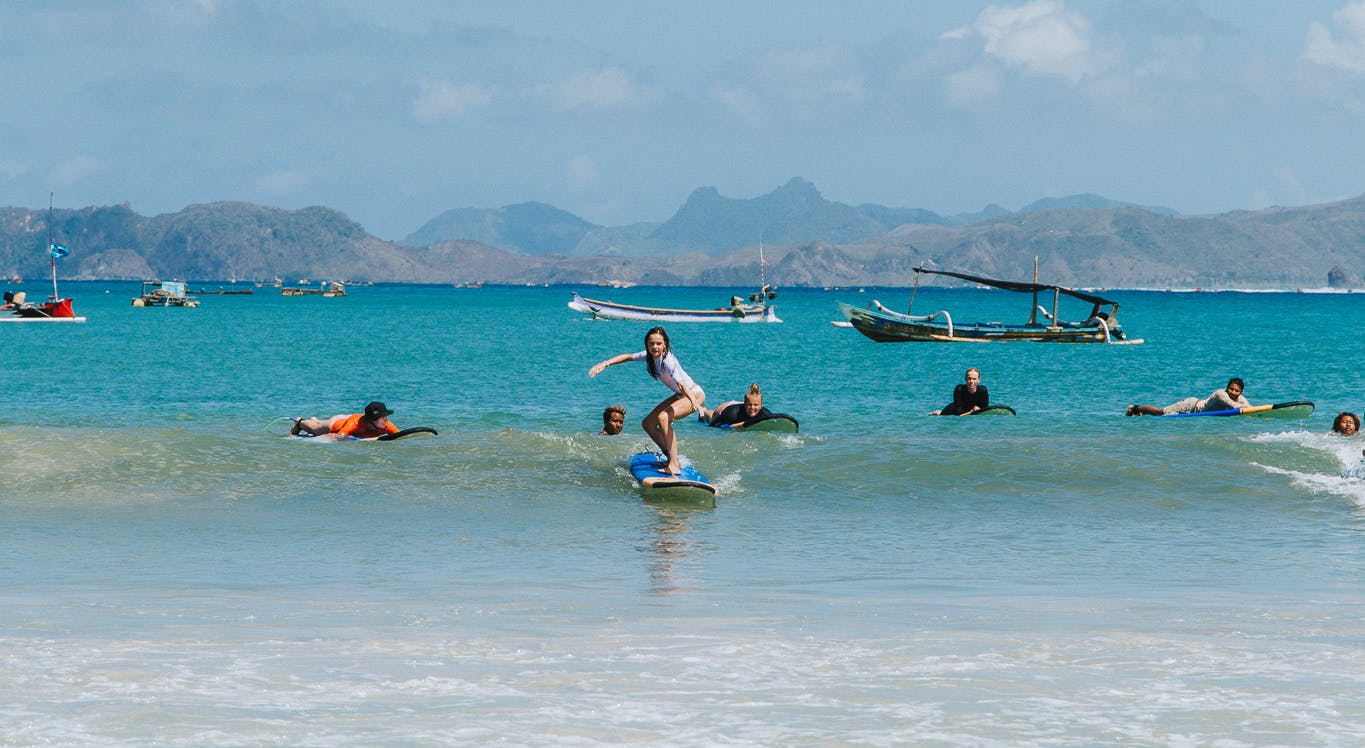 Tanjung Aan Beach

In terms of the famous beaches in south Lombok, or on the south coast in general, Tanjung Aan is undeniably a crowd favorite.
This incredible white-sand beach has everything you could want, from calm tropical waters to a solid surf break. It's really the best of both worlds. Also a perfect beach to visit with children, perfect to play for hours in the sand and easy for swimming, not many waves in the front.
There are nice local style warungs cooking up nice Indonesian food and cold coconuts. What else could you wish for!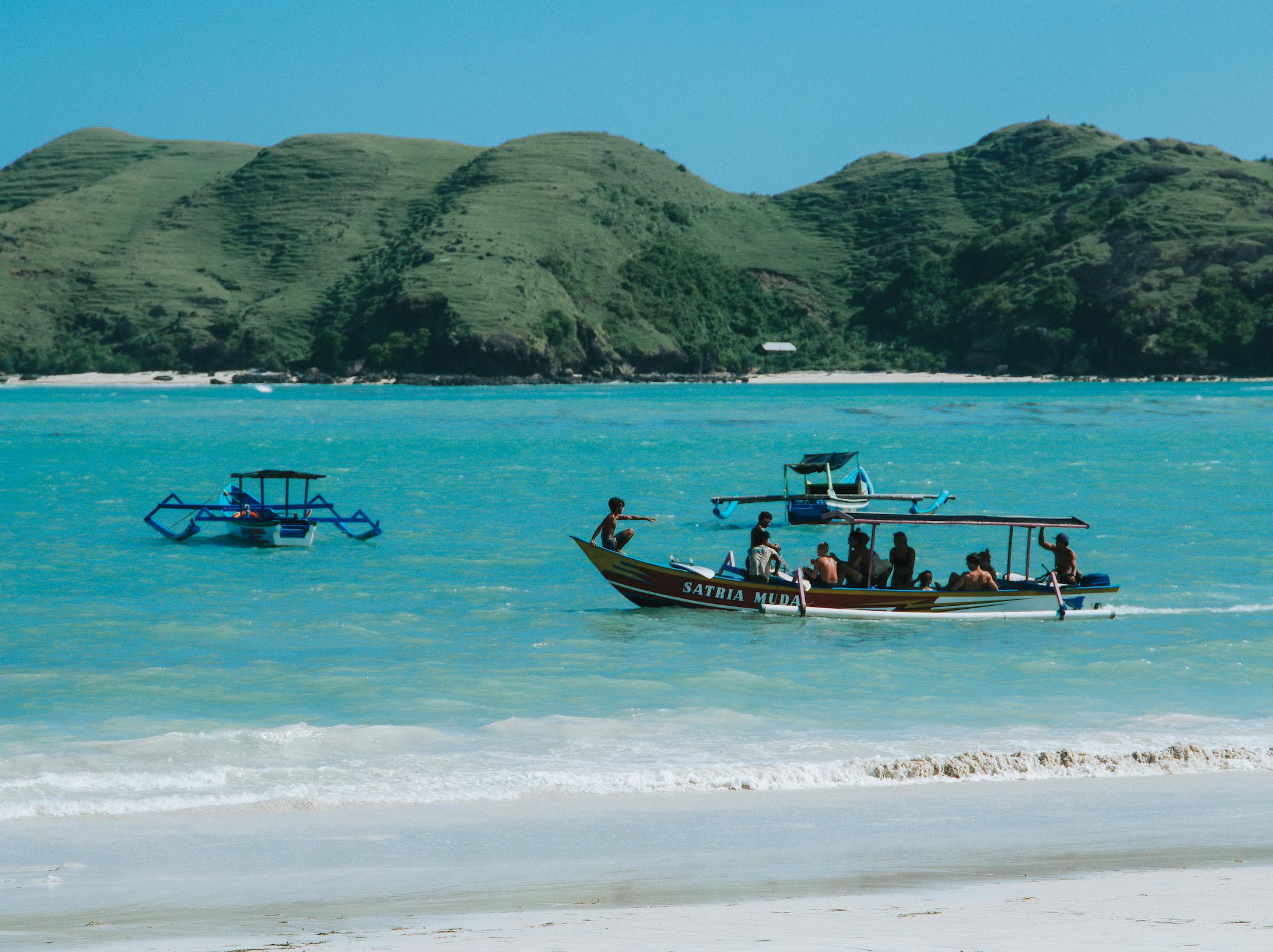 Seger Beach

Seger Beach is only a 10-minute ride on a scooter from the center of Kuta Lombok town.
Pantai Seger is a great spot for a swim and a cold coconut from one of the beachside warungs. Pantai means 'beach' by the way so that's why most locals put it before the name of the beach.
Seger Beach is one of my favorite beaches in Kuta Lombok and a great spot to beach bum, go swimming in the cool waters, and marvel at tropical paradise surroundings.
Just over the headland from Seger Beach, is a popular surf spot called Seger Point, one of the best Kuta Lombok Beaches.
You can either ride your scooter around the hillside to Seger Point and pay a parking fee of 5,000 IDR or take a short walk up and over the hill through some cow paddocks and make your way down to Seger Point this way.
Straw huts line the water's edge on this beautiful Kuta Lombok beach making it a perfect spot to perch up and gaze out over the ocean or paddle out on a surfboard to score some waves.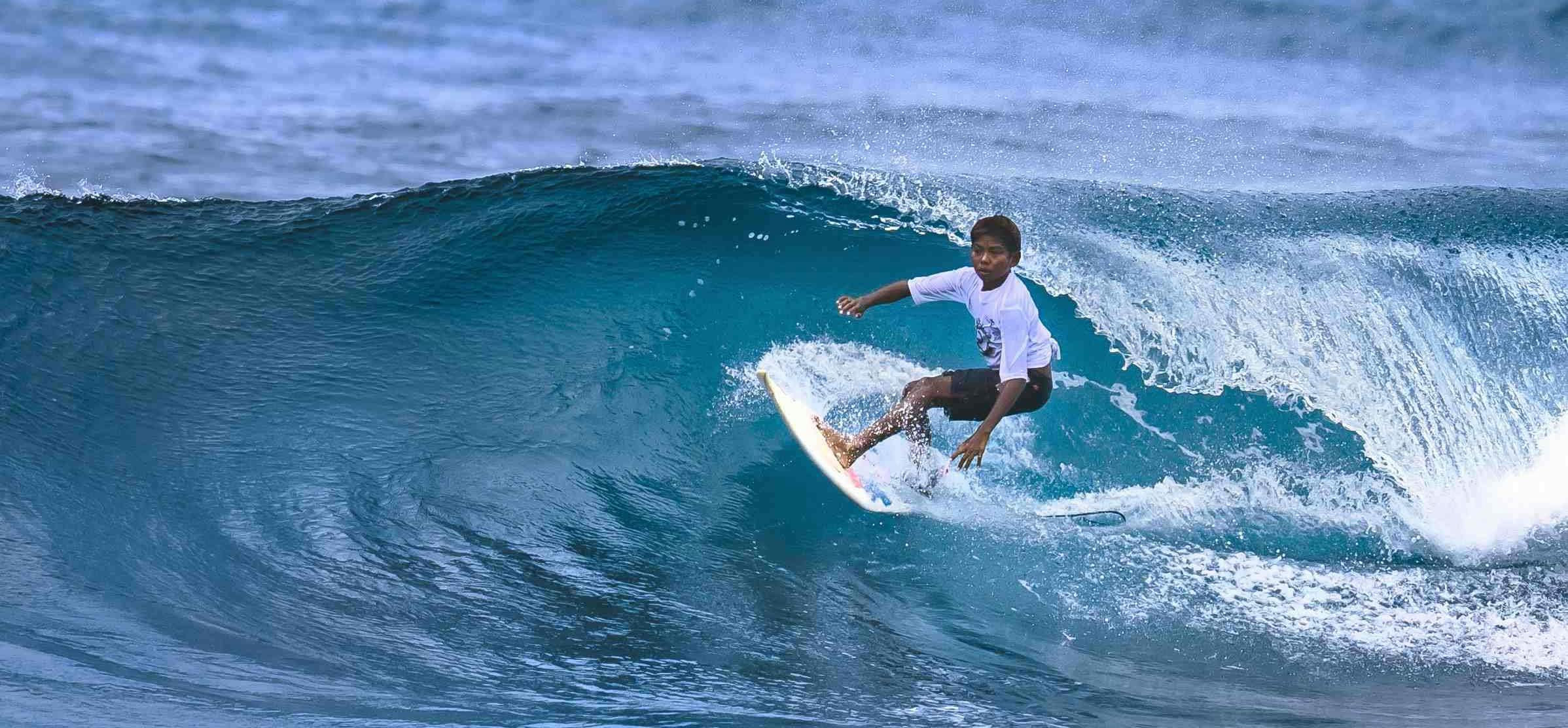 Mawi Beach

Mawi Beach is one of the best surf beaches near Kuta Lombok for intermediate and advanced surfers. It takes a little bit of effort to get here, involving a roughly 45-minute motorbike ride from Kuta Lombok.
The best way to find it is to simply follow the directions on Google Maps, which are updated and accurate. After a smooth 30-minute ride on a sealed road up the southern Lombok coast, you'll need to turn onto a rough, bumpy dirt road for the last 15-minute stretch.
There is a 10 000 Rupiah entry ticket per motorbike that you'll need to pay near the entry to Mawi Beach, so bring some small money.
Great spot to watch the surfers as the break is quite close. There are some barugas to hang out and the local warung cooks nice Indonesian dishes and they have a small shop.
We also recommend to hike up the small hill on the right for some awesome views and if you want to enjoy a private beach walk down on the other side to go for a swim.
Mawun Beach

Pantai Mawun is a quiet beach that's only a short 15-minute hop from Kuta Lombok.
Mawun is a great option if you'd prefer to chill out on a secluded beach close to Kuta Lombok. There is a small surf break here, but it's not very popular. Instead, you'll get to enjoy insane aqua water and a quiet, likely isolated white-sand beach.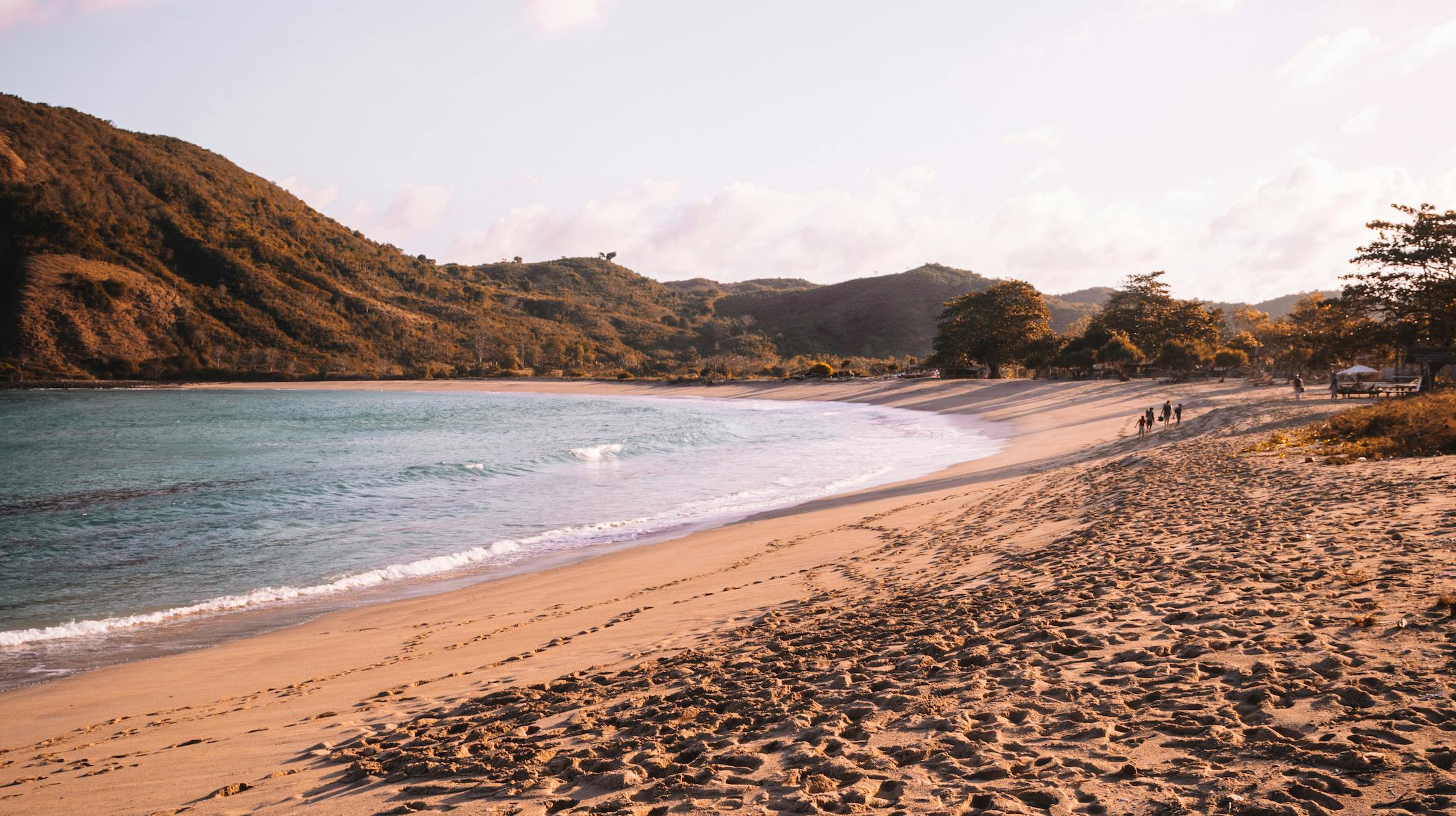 Serangan Beach

Serangan is the bay after Selong Belanak, also a nice surf spot. We usually go to Segara Resort, small beachfront resort and the perfect spot to chill and have lunch after a walk on Serangan Beach. Spacious set up and open for outside guests to have lunch and use the seating at the beach or in the restaurant. Crystal clear water and white sand!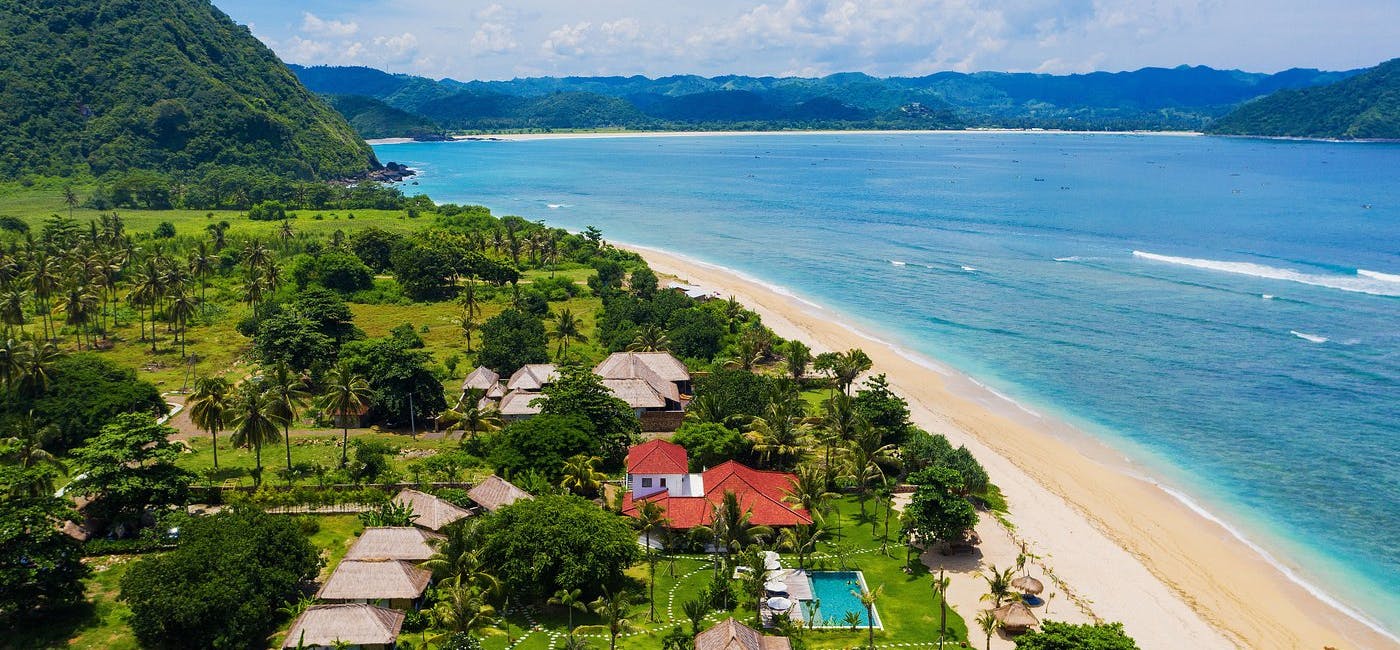 Nambung Beach

Talk about a hidden gem. Among locals, Nambung Beach is famous for a "beach waterfall" known as Air Terjun Pantai Nambung.
From Torok Beach, don't make the mistake of following the dirt road around the coast. Instead, you'll need to continue on the sealed road, up the mountain and then back around until you reach Nambung Village.
Nambung Beach is one of my favorite beaches near Kuta Lombok for a few reasons. You might want to bring your mask and snorkel. We spotted an insane amount of turtles swimming right near the shore! The Nambung Beach saltwater waterfall is an attraction that is worth visiting at low tide. As strong waves break over the flat rocks on the left side of the beach, it creates the illusion of a tall waterfall that you can stand under.